CENTERS FOR INDEPENDENT LIVING
Centers for Independent Living are not residential facilities. They provide support and advocacy services to help people with disabilities live their best lives in the community.
What Centers for Independent Living (CILs) Do
CACIL assists the centers to remove barriers to the independence, inclusion, and integration of people with disabilities in Connecticut. CILs regularly share resources, materials and know-how, which fosters collaboration and innovation.
CILs have served as the voice of the disability rights movement in Connecticut since its inception more than thirty years ago. The CILs advocate on a state and national level for accessible communities and equal rights.

CILs are consumer-controlled organizations, meaning they are staffed and managed by a majority of qualified people with disabilities. People with disabilities have control over all services offered.

CILs assist individuals of all ages and disabilities in navigating complex service systems and advocate to ensure access to their chosen services and supports.
Core programs include information and referral services, peer counseling, individual and systems advocacy, independent living skills training and transition services for both youth transition and nursing facility transition.

CILs are responsive to the unique needs of each local community.

Other services vary from individual center to center but generally include: assistance with housing, education, employment, benefits, assistive technology, medical needs and personal care assistance services among others.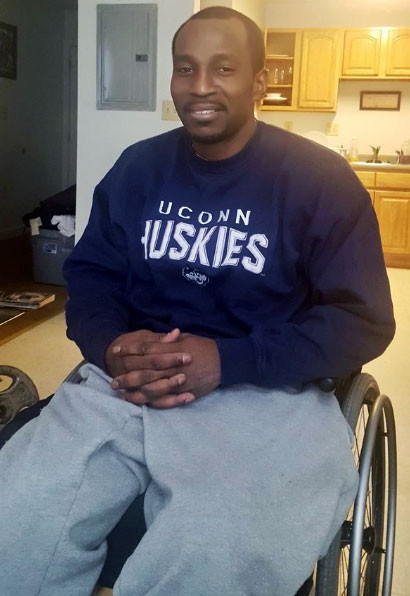 TRANSITIONING TO COMMUNITY LIVING
The work of CILs to transition and divert people with disabilities from costly institutional placements saves the State of CT millions of dollars each year. CILs have been at the forefront of transitioning and diverting people from institutions for more than 2 decades and have played a critical role in piloting CT's Nursing Facility Transition Project. CT's CILs continue to help the state rebalance the long-term care system through the federally funded Money Follows the Person Rebalancing Demonstration Project (MFP).
Find a Center for Independent Living Near You
The five Centers for Independent Living are located across the state.
Find your local Center for Independent Living by Region.
Towns Served by Independence Northwest
Barkhamsted
Beacon Falls
Bethel
Bethlehem
Bridgewater
Brookfield
Canaan
Cheshire
Colebrook
Cornwall
Danbury
Goshen
Hartland
Harwinton
Kent
Litchfield
Middlebury
Morris
Naugatuck
New Fairfield
New Hartford
New Milford
Newtown
Norfolk
North Canaan
Oxford
Plymouth
Prospect
Redding
Ridgefield
Roxbury
Salisbury
Sharon
Sherman
Southbury
Thomaston
Torrington
Warren
Washington
Waterbury
Watertown
Winchester
Wolcott
Woodbury
Towns Served by Access Independence
Bridgeport
Darien
Easton
Fairfield
Greenwich
Monroe
New Canaan
Norwalk
Stamford
Stratford
Trumbull
Weston
Westport
Wilton
Towns Served by Independence Unlimited
Andover
Avon
Berlin
Bloomfield
Bolton
Bristol
Burlington
Canton
East Granby
East Hartford
East Windsor
Ellington
Enfield
Farmington
Glastonbury
Granby
Hartford
Hebron
Manchester
Marlborough
New Britain
Newington
Plainville
Rocky Hill
Simsbury
Somers
South Windsor
Southington
Stafford
Tolland
Vernon
West Hartford
Wethersfield
Willington
Windsor
Windsor Locks
Towns Served by Center for Disability Rights
Ansonia
Bethany
Branford
Cheshire
Clinton
Cornwall
Deep River
Derby
Durham
East Haddam
East Hampton
East Haven
Essex
Guilford
Haddam
Hamden
Killingworth
Lyme
Madison
Meriden
Middlefield
Middletown
Milford
New Haven
North Branford
North Haven
Old Lyme
Old Saybrook
Orange
Portland
Seymour
Shelton
Wallingford
West Haven
Westbrook
Woodbridge
Towns Served by Disabilities Network of Eastern CT
Ashford
Bozrah
Brooklyn
Canterbury
Chaplin
Colchester
Columbia
Coventry
East Lyme
Eastford
Franklin
Griswold
Groton
Hampton
Killingly
Lebanon
Ledyard
Lisbon
Mansfield
Montville
New London
North Stonington
Norwich
Plainfield
Pomfret
Preston
Putnam
Salem
Scotland
Sprague
Sterling
Stonington
Thompson
Union
Voluntown
Waterford
Windham
Woodstock